Have you ever picked a book up only to keep flipping through because you can't just have enough of it? Do you remember the last book that got you writing pages of lessons gotten from it without even realizing you have such a number of pages already? Writing such a book should be your deepest desire too!
That's why reading this post is one of the best things that happened to you today. You don't have to worry about writing a great book if you follow these steps, they are tested and tried and that's why they are called the 3C models for writing a great non fiction book. Getting your writing materials wouldn't be a bad idea right now.
Planning your book is as important as writing the book itself, if not more.
THE CLARITY STAGE
Clarity of message
Writing a book without being clear on what your message is is a disaster waiting to happen. You will realize in the long run that you might struggle with communicating because you aren't clear on what your message is?
The question you should ask yourself is "what one lesson do I want my audience to learn while reading this book?" This question will lead you to discover the essence of your book. The message is like the nucleus. What would you like to pass across? Make sure it is just one. It might have other lessons but this is a major one you must focus on.
Many authors make the mistake of wanting to teach a lot with just a single book. I understand your burning passion but you have to be  focused on teaching one lesson.
Clarity of audience
Now, you might be tempted to say your book is for everybody. The great authors you read never believed their author is everybody; they have a clear idea of who they are writing for,what they want to teach and how they want to teach this particular audience.
Knowing who your audience is determines what you eventually write. Clarity of message is more evident when you know your audience.
Now, another mistake is after knowing the "category of your audience", you want to write for tons of people. That's a lot of work for you. The aim is to be as specific as you need to be. Your audience is one person. Who is that person?
Let's assume you want to pass a message to parents with children with Palsy Cerebral. Deciding to write for all those parents is stressful. How about you choose one that fits better?
Your audience could be this parent:
Her name is Sarah
She is stressed recently because  her Palsy Cerebral daughter just started her menstruation and doesn't know how to handle the situation.
Her daughter is always irritated and frustrated
She is looking for a book that will guide her to help her daughter adjust to this new development
After reading the book she wants to be a better parent.
Do you see how specific we are? Your message will be clear with this and you won't have to beat around the bush to make a point.
How do you use this for your book? Create an audience avatar.
Your audience avatar should include but not limited to:
His/name
Age
Problem
Behavior
Solution sought, etc
THE CONTENT PLANNING STAGE
Idea generation
Now is the time to begin to generate your ideas. You need to decide on how you will generate the ideas to be included in your book. Are you going to be carrying out deep or surface research? Would you be needing interviews? How will you get the interviews done? What books do you need to read to help develop your idea? All these must be out in place. While doing this, know that ideas can come in unlikely places, recognise it when it comes and don't throw it out of the window even when it doesn't make sense at first. In an interview, Stephen King talked about how he generates his ideas.
KING: There's a once in a century storm, and just before the storm hits, this homicidal creature shows up. So he's there, the storm is there, and it's kind of a combo thing. But that's what good horror is.
It's kind of a peanut butter cup.
CONAN: Horror is… a peanut butter cup?
KING: You've got your chocolate, you've got your peanut butter, and they're both good. But when you add them together, you've got a whole new taste treat.
CONAN: So you've done this before then? You've combined scary elements, or thought about combining scary things?
KING: You have to take a couple of things that are not related ordinarily… For example, I'm terrified of flying, and I'm also terrified of rats.
So I though of this story called "The Rats Are Loose on Flight 62."
Brainstorming is another way to generate ideas. Ask yourself what you would want in a book like that. You can also ask your potential audience what they want. You don't need an email list to do this. List out the names of a few people in the situation you want to talk about, ask for their view. Ask questions! Use WHY until you have exhausted your why.
Mind mapping
Another content planning strategy is mind mapping.  What you do at this stage is to give a visual representation of your book usually in the form of a web. It is often called the organized brainstorming. You have both your large and small ideas on a single page.
These are the seven rules to use a mind map: 
Start in the centre of a blank page turned sideways.
Use an image or picture for your central idea.
Use colors throughout (this is optional).
Connect your main branches to the central image and connect your second- and third-level branches to the first and second levels, etc.
Make your branches curved rather than straight-lined.
Use one key word per line.
Use images throughout (this is also optional).
Outline
An outline is a structured document that includes the sequential information about your book structure, chapter, sub-chapters and content. Check the image below for a sample. You can also read more about it here.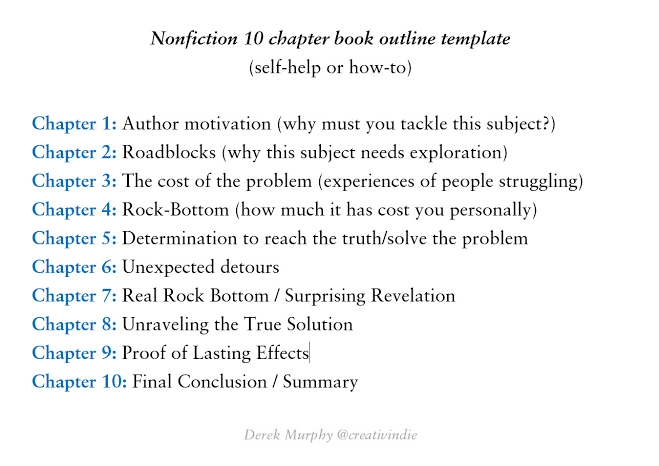 Plan your book Structure and Style
Don't just write with the book eventually structuring itself, have a structure in mind. What comes first, what comes next, what comes last. Also, use a style. Don't deviate.
CONTENT WRITING STAGE
In this stage, you can go ahead and start writing your book. Always put in consideration the following when writing your content.
Have a captivating chapter title (check out how top pro writers use their chapter titles).
Tell relatable stories where needed.
Don't fluff.
Use easy to understand language.
Focus on your message.
Write for that one audience.
If you try these things, you are on your way to writing the best book of your life.